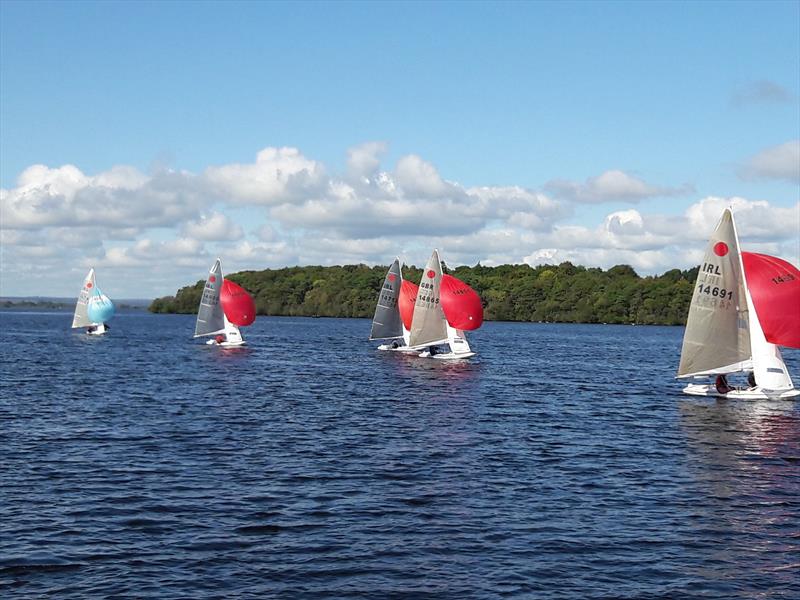 Racing at Lough Derg during the 2017 Irish Fireball Nationals © Frank Miller
The Irish Fireball Class, in tandem with Fireball International and Lough Derg Yacht Club are delighted to announce that the World Championships of the Class will be hosted at the Lough Derg venue in August 2022.
Fireballs sailing on Lough Derg September 2021
This short video will give you a feel for Lough Derg Yacht Club facilities
A flavour of sailing in Dromineer to whet your appetite!
Mirror Worlds at LDYC in 2013
Sunshine & Lightning - Mirror Worlds LDYC from George Hooker on Vimeo.
Ease of Travel to the Venue
Air Travel
Shannon Airport is an international airport serving United Kingdom, mainland Europe and the United States. It is approx. 60 minutes by road to Lough Derg Yacht Club (LDYC).
Cork Airport is situated approx 100 mins from the LDYC. Cork provides air links with the United Kingdom and mainland Europe.
Dublin Airport is the premier airport for Ireland and its two terminals serve the United Kingdom, mainland Europe and the United States. Dublin Airport is approx 120 mins from the LDYC.
In terms of cost, all locations would have similar fares, therefore booking in advance would be key to getting best prices.
Sea Travel
There are three main ferry ports serving Ireland which are situated in Dublin, Cork and Rosslare.
Dublin provides daily ferry links with Liverpool (U.K.) and Hollyhead (N. Wales), Pembroke (S. Wales). It is approx 120 mins by road from LDYC.
Cork provides ferry links with Swansea (S. Wales) and Northern France. The ferry port in Cork is approx 110 mins from LDYC.
Rosslare is situated in County Wexford on the South East corner of Ireland and is ideally located to provide ferry links with Fishguard (S. Wales) and Northern France. Rosslare would be approx 150 mins by road from LDYC.
Belfast also has a ferry port which serves Scotland. Belfast is situated approx 180 mins from LDYC.
When travelling from mainland Europe going direct to either Cork or Rosslare from Northern France would be the most cost efficient rather than doing a land-bridge through the United Kingdom.
Local accommodation list click here
RACE AREAS USED IN DIFFERENT WIND DIRECTIONS